Dr. Jewell grew up in New Castle, PA and attended Mohawk High School. Erica completed her undergraduate degree in Biology at Mount Union College and received her master's degree in Microbial Physiology from Duquesne University. At the University of Illinois Champaign-Urbana, she earned her veterinary degree. Dr. Jewell is now offering an integrative approach to veterinary medicine with acupuncture. She now resides in Erie with her husband, her three children, and her three pups. She enjoys scrapbooking, outdoor activities, playing tennis, and hanging out with her family.
After graduating from Central High School and Edinboro University of Pennsylvania, Dr. Gorney received her degree in veterinary medicine from the University of Glasgow in Scotland. Dr. Gorney's professional interests include internal medicine and hospice care. She is also employed by the Pennsylvania State Horse Racing Commission at Presque Isle Downs. In her free time, Dr. Gorney enjoys weightlifting, horseback riding, and baking.
Originally from Buffalo, NY, Dr. Jennifer Weaver started her career in Pittsburgh, PA until moving to Erie with her family in 2012. She previously worked in the Harborcreek/North East area for 3 years until joining our team in September 2015. Dr. Weaver completed her undergraduate studies at Allegheny College before pursuing her veterinary studies at the University of Florida, College of Veterinary Medicine, earning her DVM degree in May 2009. Her interests include surgery/dentistry, dermatology and ultrasonography. She also works at the Erie Humane Society and Pet Wellness Clinic, caring for our community and shelter animals! Dr. Weaver enjoys spending time with her husband and son, as well as her three dogs and a sphynx cat!
After graduating from McDowell High School and Clarion University of Pennsylvania, Dr Pierce received his doctorate from The Ohio State University College of Veterinary Medicine in 2004. Dr Pierce has been with Glenwood ever since. Dr Pierce is also the Chief Veterinarian for the Pennsylvania Horse Racing Commission at Presque Isle Downs. He works with the Erie Humane Society, and he works limited shifts at the Northwest Pennsylvania Pet Emergency Clinic. Dr Pierce enjoys regularly competing in multisport and other athletic events. He resides in Millcreek with his wife and four children.
Dr. Wert grew up in Erie and graduated from Villa Maria Academy. She and her husband moved to California in 2000 and resided there until returning to the area in 2012. Dr. Wert received her bachelor's degree in science from the University of California, Davis and DVM degree from Kansas State University, College of Veterinary Medicine. She is also employed by the Pennsylvania State Horse Racing Commission at Presque Isle Downs. Dr. Wert believes in preventative medicine and client education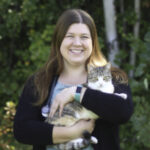 Dr. Scott grew up in Pittsburgh, PA and received her undergraduate degree from Penn State University in 2011. She is a 2017 graduate of the University of Minnesota College of Veterinary Medicine, where she earned a master's degree in public health in addition to her DVM. Dr. Scott's professional interests include exotic pet and feline medicine. In her free time, she enjoys photography, camping, hiking, kayaking, and gardening. She shares her home with her four cats, three birds, and one dog.
Dr. Davis grew up in Cincinnati, Ohio where he went to undergrad at Miami University to study zoology. He then went to Lincoln Memorial University and obtained his master's in veterinary biomedical science, and his Doctor of Veterinary Medicine with the class of 2022. In his free time Dr. Davis enjoys going to the gym, frisbee golfing, and attending baseball games for the Reds and Guardians. He also enjoys spending time with his family, which includes a border collie, two cats, and his fiancé Dr. Runser (who also works at GPH!).
Dr. Runser grew up right here in Erie, Pennsylvania where she attended Collegiate Academy for high school. For her undergraduate degree, she attended Gannon University with a concentration on pre-veterinary medical studies. Upon graduation, Dr. Runser fell in love with the mountains down at Lincoln Memorial University where she obtained her Doctorate in Veterinary medicine and recently graduated in May of 2022! In her free time Dr. Runser enjoys crafting, spending time on the lake, and most importantly, spending time with her family including her dog, two cats, and her fiancé, Dr. Davis. Dr. Runser is very excited to be returning to her hometown and to give back to her community.
Dr. Natalie Prischak, DVM
Originally from Erie, Dr. Natalie Prischak completed a Bachelor of Science degree in agriculture at The Ohio State University in 2018 before receiving her Doctor of Veterinary Medicine degree from the University of California, Davis School of Veterinary Medicine in 2023. Dr. Prischak was inducted into the Lambda Chapter of Phi Zeta, the honor society of veterinary medicine; she has completed RECOVER CPR training and is Fear Free certified. Her professional interests include pain management, internal medicine, and ophthalmology. Outside of work, Dr. Prischak enjoys reading, crafting, traveling, playing her flute, and spending time with family and friends.